Graphite Electrode supplier shares with you.
1. Reasonable distribution structure: The distribution of various types of scrap steel in the basket and the condition of adding to the furnace need to be reasonably configured to avoid the formation of light and thin steel materials on the top of the furnace and it is difficult to descend and to prevent the large scrap steel from collapsing the electrode.
2. Carefully observe the distribution of unmelted charge during smelting, especially near melting. If a bridging structure has been generated, firstly, by blowing oxygen or physically swaying or shaking, the charging material can be collapsed under the condition of power outage and the electrode has been raised to a high level to avoid smashing the electrode.
3. The electrode should adopt the strength suitable for the process requirements. The connecting electrode should use a nut with an appropriate strength, and be cleaned with a special clamping device. Before replacing the electrode and lifting, the lifting ring must be fastened to ensure that the lifting ring is in close contact with the electrode. In order to keep the interface clean, it is required to keep the cap of the new electrode until the lifting ring is installed.
4. The electrode holder should avoid being caught in the white line between the electrode connections. The electrode connection must not be above the electrode holder. The electrode holder must not be clamped on an open ferrule or on a ferrule with a hanging ring.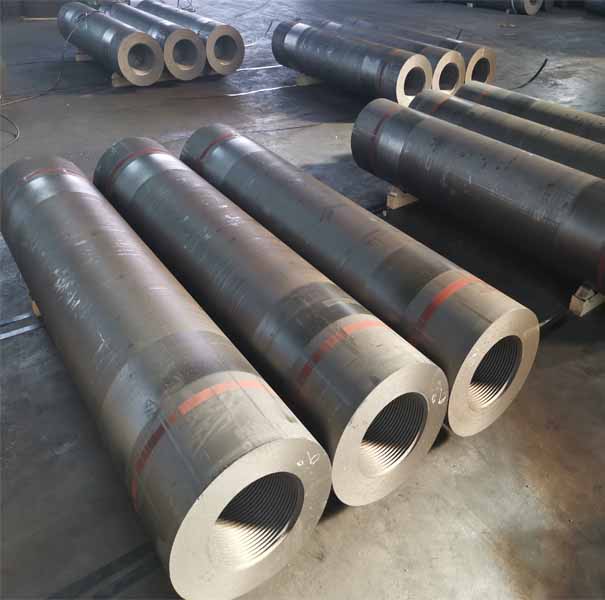 In conclusion
1. Material collapse, resonance effect, irregular clamping operation, an abnormal condition of electrode adjuster, electrode adjuster hydraulic drive mechanism, improper control of electrode internal quality and other factors can cause the electric furnace electrode to break.
2. By adopting corresponding technical and management measures for the cloth structure, electrode clamping, secondary short-circuit no-load voltage, non-conductive objects, secondary current, the braking force of the electrode hydraulic drive mechanism and system delay coefficient, etc. The breaking phenomenon can be significantly improved.
Our company also provides large diameter graphite electrodes.